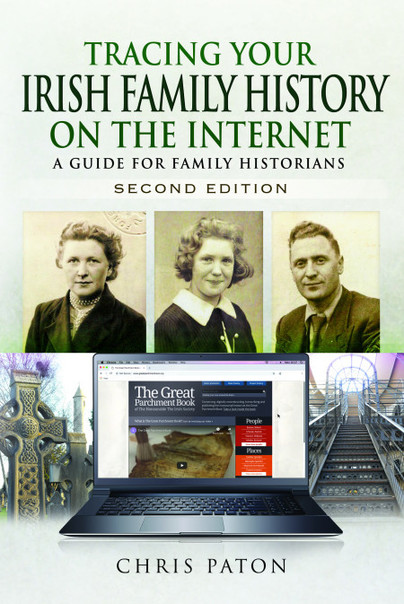 Just out from Pen and Sword Family History -- could it solve my family history conundrum?
I was very kindly given a review copy of
Tracing Your Irish Family History on the Internet
by Chris Paton (Pen & Sword Books, £14.99). I decided to review it by using it to see if it could help me solve the biggest mysteries in my own family tree: what was my 4x great grandmother's maiden name and where did she come from? All I know is that she was also called Jane (like me) and came from Ireland.
Anyway, to get back to the question in hand, I only know about my 4x great grandmother Jane from my great granny's document. Jane was born on June 6 1794. I've established (from several census returns) that she came from Ireland, but I don't know where in Ireland or what her maiden name was.
To cut a very long story short, that's pretty much all I know about Irish Jane. Without her maiden name it's nigh on impossible to find her in Ireland. Chris Paton's book is an excellent resource which lists a vast number of Irish genealogy resources along with pointers on how best to use them, but no resources in the world can find an unknown 'Jane'. On Ancestry, I managed to draw down a list of 'Janes' born in Ireland at the end of the eighteenth century but, without other clues, it's impossible to know whether any of them is my Jane. There's no record (that I've found) of Jonas and Jane's marriage either in the UK or Ireland (UK more likely, I think, as Jane probably emigrated to England or Scotland as a young woman) and perhaps they never formalised their relationship. Who knows?
Sometimes you just have to let these things go. Perhaps one day someone else on Ancestry will pin Jane down and I'll be able to borrow their findings. For now, I'm going to leave well alone.